What is the best and most effective way to clean leather sofa..? A question that comes to mind to all proud leather furniture owners. Leather upholstery is a popular choice when choosing your furniture. And while it looks and feels great, it also requires certain care to keep it looking beautiful and fresh.
First, there are three types of leather care products: leather cleaners, leather conditioners and leather cleaners with conditioner. Leather cleaners clean stains, dirt, oil and salt residues that destroy leather upholstery. Unless you have a brand new product, this is what you will want to use first.  In addition, leather upholstery conditioners moisturize, soften, protect and keep you leather surfaces feeling and looking beautiful. It is important to use both kinds of products to take good care of your furniture. Cleaner and conditioner compounds are meant to solve  both problems at once. As far as leather cleaners go, there are some homemade cleaning solutions, such as lemon juice, vinegar or liquid soap mixtures to clean your leather sofa, but it can also be a little bit risky, as using the wrong kind of soap or detergent can ruin your leather upholstery irreversibly. So, unless you are trying to clean an old leather sofa you found on the side of the curb that will stay in your garage for the next Super Bowl week, it is a good idea to invest a few dollars into a tested and reliable cleaning product. Here are some tips, tricks and ideas on how to clean your leather sofa, keep it stain free and looking good for many years to come:
1. Vacuum your leather couch thoroughly to clean the loose dirt and dust. Be sure to use a soft brush attachment on you vacuum cleaner to prevent scratches.
2. Make sure to test your leather cleaner on a small inconspicuous spot to make sure it does not leave marks or damage your furniture.
3. After reading the instructions, use leather upholstery cleaner to clean your sofa or couch.
4. Apply leather conditioner to protect your furniture and extend its life.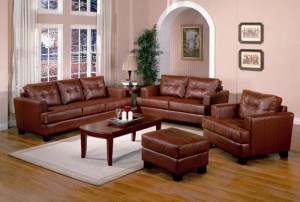 Important tips and tricks:
– Clean any stains and/or spills immediately. Leather is porous and once a stain is set it is extremely difficult to remove it.
– Be sure not to use any alkaline, varnish or ammonia based cleaners or any other general non leather upholstery cleaning products to clean leather sofa or couch. It may damage your furniture!
– Keep you leather sofa away from direct sunlight. It may damage your upholstery and crack the leather.
– Be sure to protect your leather upholstery when cleaning other non-leather parts of your sofa. While wood cleaner may do wonders on those wood armrests, any excess over spray may also damage your leather parts of the sofa.
– Apply leather conditioner after cleaning your furniture, but there is no need for overkill. Once or twice a year is enough to keep your couch or loveseat looking beautiful. It depends on how often it is used and abused. It also depends on the climate you live in. Very dry conditions tend to be harmful.
– It may seem trivial, but make sure you read the instructions before using any leather upholstery cleaner or conditioner. A minute of your time can prevent you from making a very expensive mistake.
– Make sure to read manufacturer's instructions after you purchase your furniture. Manuals and labels are boring, but unless you plan to use your sofa for only a couple of weeks, it is always a good idea to follow experts' instructions and advice on how to take care of your beautiful investment. A minute or two of your time reading the label can save you thousands in the long run.
You may also like: